Well, we finally gave in to the demand for an arrow making course to complement the longbow making course we have run for a number of years now.
The challenge we set ourselves was to run a course that would allow 12 completed arrows to be made in a single day.
But not just a basic arrow (too boring…), we wanted a fully fledged competition arrow, that would be well matched to you and your bow – aiming for better than you could easily obtain commercially.
As you can see from the 1st course photo, we at least managed to produce the arrows in the day: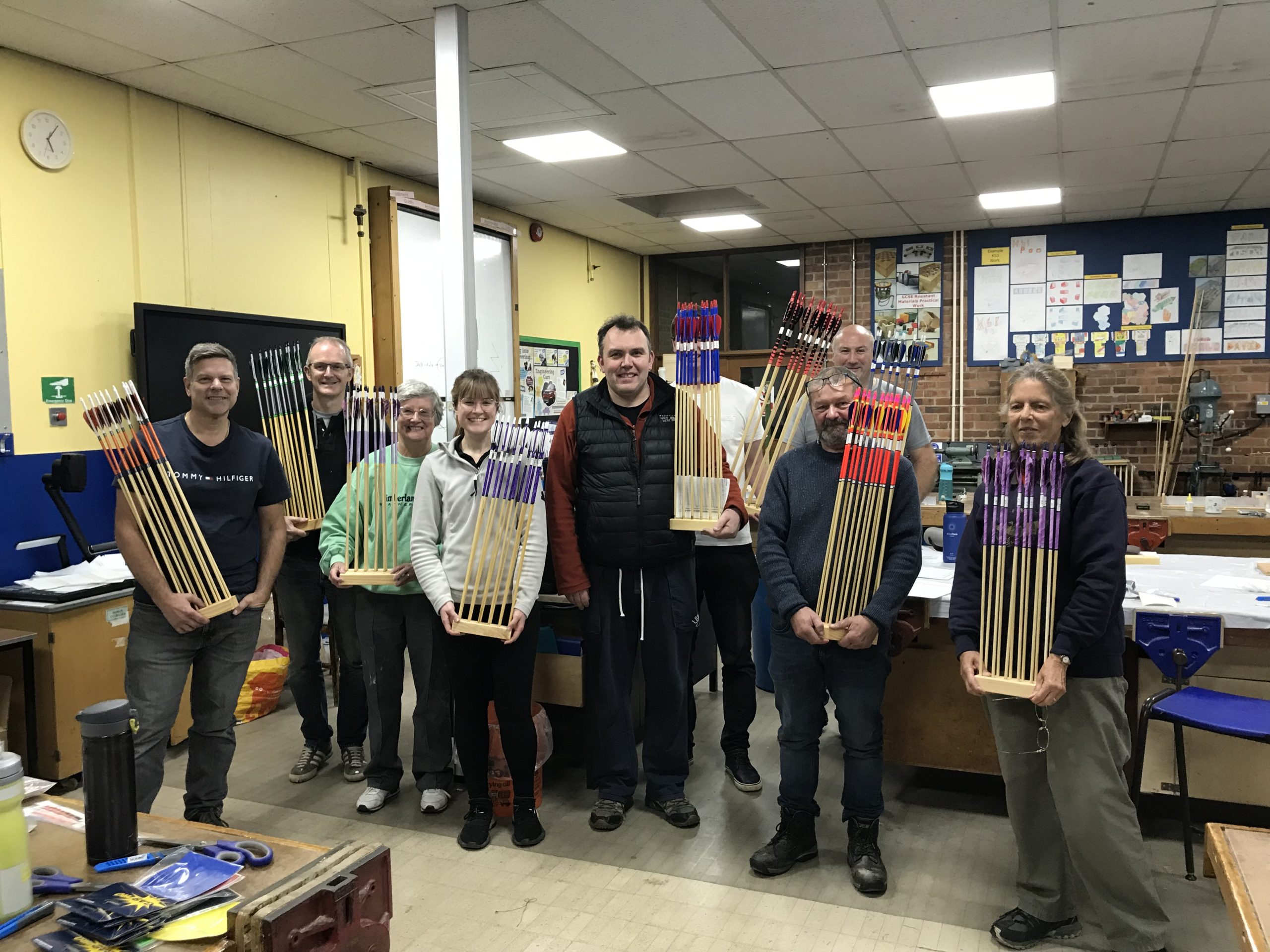 During the day we covered:
The theory of what matters in creating a well matched arrow set
Measuring individual draw length and 'full-draw' bow weight
Selecting and preparing the arrow shafts (straightness, length, optimum spine, grain pattern, tapering, footing and precision matching)
Cresting (creating the personalized painted decoration you can see above) – so at least when we miss the target we can admire our distinctive art work
Fletching (size, shape, spin)
Initialing and numbering
Varnish matching (getting the ultimate consistency in weight, center of balance and spine)
Bow tuning after your arrows are made
Most of the sets ended up with 12 arrows within +/- 1lb of the set average, cut to the optimum length for the individual and bow and with a weight variation of +/- 10 grains across the set. Everyone also left with the knowledge of how to close that weight and spine range down even further with a bit of patience and precision varnishing over a few days.
The first few sets tested are also reported to be flying straight and true (or at least as well as archer skill allows).
If anyone is interested in attending an arrow making course:
The courses are held at West Park School, Spondon, Derby on Saturdays and run from 9am – 6pm, for a maximum of 10 participants
You need to bring the longbow you plan to shoot, (and need the arrows matched to), along to the course. You can attend without the bow, but we won't be able to get the optimum spine match we can with it.
The course cost is £100 for 2021/22 courses, for which you get the 12 arrow matched set you produce on the day and the skills to continue making your own going forward.
The course dates for 2022 are:

15th Jan 2022 (FULL)
5th March 2022 (1 place remaining)
25th June 2022 (4 places remaining)
19th November 2022 (3 places remaining)
For course bookings or additional information please contact andrew.spondon58@talktalk.net