Anchor Bowmen Archery Club were asked for the third year
in a row to open our 'Have-A-Go' stall in support of the Treetops Hospice Great
Easter Egg Hunt. The club accepted the invitation from our adopted
charity knowing it was being held on Easter Saturday.
As usual we had plenty of volunteers put their
names forward to support this very worthy course fully well knowing we had to
be at the Asterdale Sports Ground for 7:30am to load up the van which for the
first time being supplied and driven by Jake Evans. This saved us the usual
logistical nightmare of trying to fit the equipment into our cars. The
only downside was that the ground was boggy so we had to carry the equipment
from the containers to the van in the car park. Through a combination of manpower
and the mower we got the eight bosses, stands, quivers, arrows, safety lines,
safety signs, perimeter poles, bracers, finger tabs etc.
We got to Treetops Hospice and went about setting
up our safe location. We placed the poles and roped off and area to ensure we
operated within a safe environment, setup the stall and bosses and got this all
achieved by 08:45am. 15 minutes ahead of schedule – game on !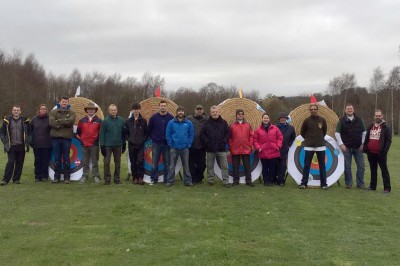 Volunteers (left to right); Andy, Meg, Nick, Derrick,
Roger, Elliott, Scott, Anthony, Chris, Terry, Pat, Anne, Gary, Mo, Dave and
Jake.
The day went well even though it was colder and
wetter than previous years. We maintained a steady flow of customers in between
the rain showers. The club volunteers always ensured they had a smile on their
faces at all times or it could have been the coffee and hob-nobs that Meg had
supplied. This year we pinned hand-made paper Easter Eggs (made by Meg
and her mum) on the targets and when a have-a-goer hit one of these paper eggs
they would win a chocolate Easter Egg donated by Nick.
We had another Personal Best year making £212.00
for the hospice. We charged the same as previous years, £2 per 6 arrows, so
taking into account the weather we did really well. As we looked around
the stalls we did have a steady flow of people compared to other activities
that we are available on the day.
A big personal thank you to our sainted volunteers
who never fail to deliver when asked to whatever the weather, time or location.
Great Job Done ! Thank You
Mo (Membership Secretary)